---
IPL 2018: Possible Player Retentions For Each IPL Team
---
Listen to Article (English-Beta)
We've entered a new year (2018) which means the buzz around the IPL keeps growing by the day. The rules for retention and auction have already been announced.
This year, most teams are likely to undergo a big reshuffle. The teams can retain a maximum of 5 players through a combination of pre-auction retention and Right To Match (RTM) cards.
With the last date to submit the pre-auction retention list (maximum of 3 players) approaching (4th January) and the Mega Auction slated to take place in less than a month's time, let's have a look at each team and the players they are likely to retain.
P.S. – This is my point of view. You can make your list and compare (can become an interesting and a fun activity). Also, the teams might not retain the players mentioned below and might opt for something different.
Royal Challengers Bangalore (RCB)
RCB is probably one of the most followed IPL teams around the world. However, even though they've had some of the best players, they have never won the IPL title even once. Hence, they will be looking to form a strong core and aim to end the trophy drought.
When the names of Virat Kohli and AB de Villiers come up, it's a no-brainer. Those two are simply the best limited-overs batsmen in the world. Therefore, these two are certainly going to be retained.
Now, Yuzvendra Chahal has performed exceedingly well for RCB over the last couple of years which has helped him break into the Indian team. He may be the 3rd player to be retained before the auction or the Bangalore franchise might just use their RTM card for the Haryana leg-spinner.
KL Rahul looks another candidate who will likely be retained through the RTM card. Now, that leaves us with one player. You might be thinking what about Chris Gayle? Well, he hasn't quite delivered for RCB in the last two seasons, but he has roared back into form in the Bangladesh Premier League (BPL).
Pre-Auction – Virat Kohli, AB de Villiers, Yuzvendra Chahal (tentative)
RTM – KL Rahul, Chris Gayle
Chennai Super Kings (CSK)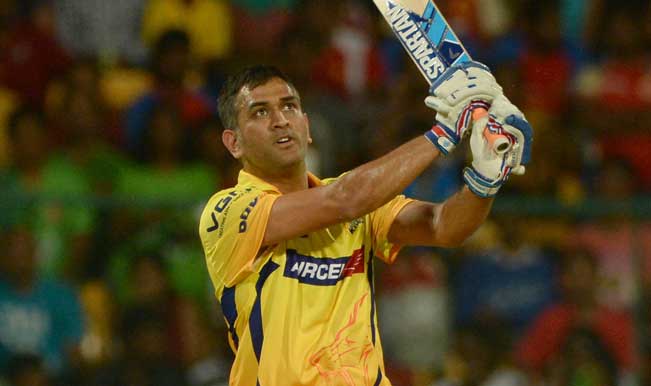 CSK is one of the most successful teams in IPL history. And they are back after serving their 2-year ban.
Like RCB, it's a no-brainer for CSK. MS Dhoni has to be retained. He just has a unique connect with CSK and the city of Chennai. Suresh Raina is also sure to be retained (unless the franchise decides to spring a surprise).
CSK will then have a problem and that is the problem of plenty. They have the likes of Brendon McCullum, Dwayne Bravo, Faf du Plessis, Ravichandran Ashwin, Ravindra Jadeja among others to choose from. I feel they might go for Dwayne Bravo.
And then for the RTM, it'll be a toss-up between Jadeja and Ashwin. McCullum might be their fifth retention. This will form a very strong core and they will hope to continue from where they left off.
Pre-Auction – MS Dhoni, Suresh Raina, Dwayne Bravo/Ravindra Jadeja
RTM – Ravindra Jadeja/Ravichandran Ashwin, Brendon McCullum
Mumbai Indians (MI)
The only team to win the IPL thrice have had a strong (and same) core for the last 5-6 years.
Rohit Sharma ever since he became the captain of MI, they've looked a different side, he as a player has evolved. Hardik Pandya and Jasprit Bumrah have been the finds of the franchise. Thus, these three players look set to be retained unless they decide to go in with Kieron Pollard.
Mitchell McClenaghan has been excellent for Mumbai. Jos Butler might be the dark horse here. His destructive ability might just turn it in his favour. Hence, these are the 5 players they might retain.
Pre-Auction – Rohit Sharma, Jasprit Bumrah, Hardik Pandya/Kieron Pollard
RTM – Mitchell McClenaghan/Jos Butler, Hardik Pandya/Kieron Pollard
Sunrises Hyderabad (SRH)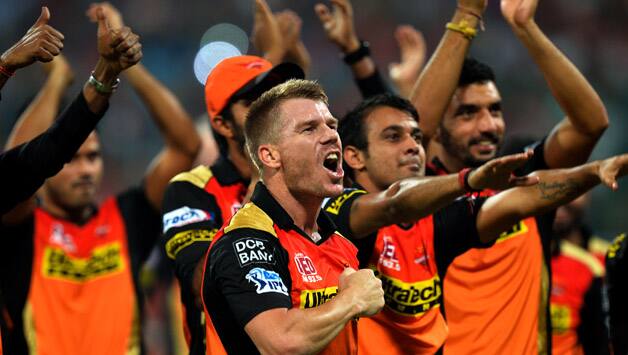 The Hyderabad-based franchise have had good outings in the past 2-3 years. They lifted the Trophy in 2016.
SRH might not retain 3 players before the auction. They might just go with two. And David Warner and Bhuvneshwar Kumar are the most likely players to be retained. They are a franchise who play smart at the auction table. They assess the how much each player is worth investing in. Hence, they might only retain 2 players before the auctions.
However, players like Rashid Khan and Shikhar Dhawan who performed well in the last season have a great chance of coming back to SRH through RTM. The 5th player might be Moises Henriques.
Pre-Auction – David Warner, Bhuvneshwar Kumar
RTM – Rashid Khan, Shikhar Dhawan, Moises Henriques (tentative)
Kolkata Knight Riders (KKR)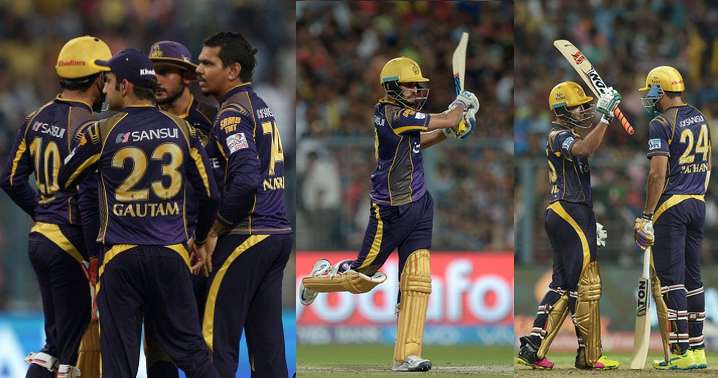 KKR endured a poor start to the IPL with the first three seasons panning out pretty badly for them. But ever since Gautam Gambhir has become the captain, their fortunes have taken a big turn.
Gautam Gambhir is likely to continue as skipper. Chris Lynn is become one of the most destructive batsmen in the world at the moment (in the T20 format). Sunil Narine remains to be a mystery for most batsmen. Hence, these are three players KKR might retain.
Manish Pandey has excelled at KKR and can be the choice for one of the RTMs. Robin Uthappa might be the other. Andre Russell will complete his one-year ban from cricket and will be available to be retained. Hence, he might be one of the five.
Retain – Gautam Gambhir, Sunil Narine, Chris Lynn.
RTM – Manish Pandey, Andre Russell.
Kings XI Punjab (KXIP)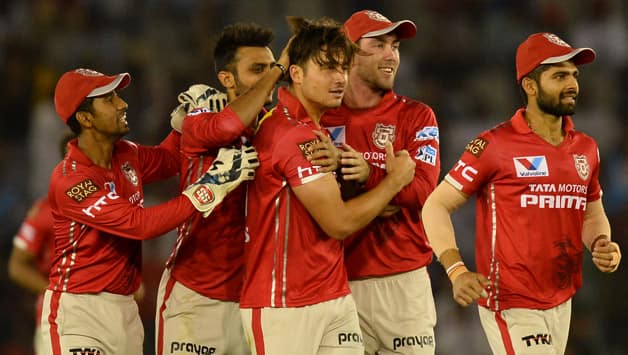 Along with RCB and DD, KXIP is one the teams to have never won an IPL. They have qualified for the playoffs only thrice in 10 years.
They might be one of the teams that might go into the auction without retaining any player. Or might just retain one (and that most likely would be David Miller).
However, they would look to use their RTM card wisely. The likes of Axar Patel, Hashim Amla and Marcus Stoinis could be retained through RTM. Glenn Maxwell could be the darkhorse here.
Retain – David Miller
RTM – Hashim Amla, Axar Patel, Glenn Maxwell/Marcus Stoinis
Delhi Daredevils (DD)
DD have produced a few promising Indian youngsters in the last two years. Like KXIP, they might not retain a lot of players before the auction.
The players who might be retained before the auction are Chris Morris and Rishabh Pant. There's no surety that both will be retained (neither of them also might be retained), but they might use their RTM cards to get back some of the players. And those players might be de Kock, Shreyas Iyer, Sanju Samson.
Retain – Rishabh Pant, Chris Morris (both tentative)
RTM – Quinton De Kock, Shreyas Iyer
Rajasthan Royals (RR)
In most IPLs, RR have entered the tournament as underdogs. Like CSK, they also come back after serving a two-year ban.
They might retain only two players before the auction. Steve Smith and Ajinkya Rahane are the likely players.
RR will have to deal with the lack of options with respect to the retention policy. While the likes of Shane Watson, Stuart Binny and Chris Morris played for them in 2015, since the above players played for teams other than GL or RPS, they will not be allowed to be retained by RR.
Hence, their RTM choices might be James Faulkner and Dhawal Kulkarni.
Retain – Ajinkya Rahane, Steven Smith
RTM – Dhawal Kulkarni, James Faulkner
Pictures Courtesy - https://images.google.com/
---
Report
---
---
Leave a Comment
---
&nbsp&nbsp&nbspComments: 0&nbsp Click to see
---
RELATED POSTS
---
---
---
---
YOU MAY ALSO LIKE
---
---
Sports & Games
ENGLISH
410
&nbsp|&nbsp
2
| 1st Jan 2018
---
Sports & Games
ENGLISH
214
&nbsp|&nbsp
0
| 30th Dec 2017
---
Sports & Games
ENGLISH
338
&nbsp|&nbsp
2
| 29th Dec 2017
---
---
---
FROM SAME AUTHOR
---
---
---
Sports & Games
ENGLISH
338
&nbsp|&nbsp
2
| 29th Dec 2017
---
---
---
Sports & Games
ENGLISH
660
&nbsp|&nbsp
5
| 17th Oct 2017
---
---
Education
ENGLISH
440
&nbsp|&nbsp
9
| 2nd Oct 2017
---